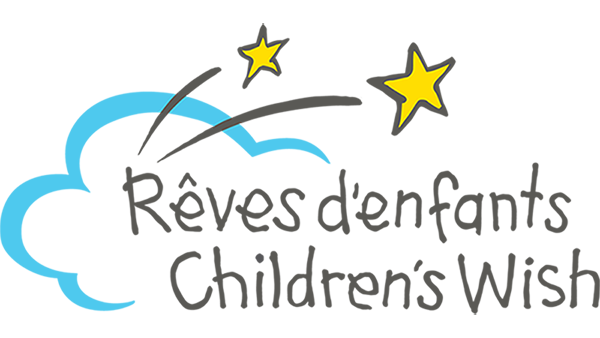 Since 1989, Blue Cross has partnered with the Children's Wish Foundation to make dream trips come true for Canadian children with high-risk, life-threatening illnesses.
Since partnering with the Children's Wish Foundation, Blue Cross has been providing the travel insurance required for travel wishes and waives the pre-existing clause for wish children. By helping make these wishes come true, wish kids have something to look forward to, so they can focus less on their next treatment. This dream can give them the energy and hope to go on.
Should anything happen while travelling, Blue Cross will take care of it. We are proud to say we have never refused granting a wish to an eligible child.
Take a few minutes to see how positively a wish affects these miraculous children and the people who love them. The impact begins at the moment the children learn that their dream will come true, and it lasts for a long time after.
Mégane's dream: South Africa!
Mégane Tardif beat Hodgkin's lymphoma, an aggressive cancer that affects the lymph nodes.
Mégane arrived ten minutes early when I went to meet her with her mother, Julie, a colleague at CanAssistance. The resemblance is striking, and, despite her youth, her quiet strength is obvious.
Over coffee, she's relaxed and looks directly at me. During our interview she switches back and forth between French and English in a single sentence, a testament to her high school years at Montreal's bilingual Face School.
A courageous young woman
It's late April 2017. Mégane is at the hospital when she sends her father home. She will spend the night alone to make sure she's first on the list for the next day's computed tomography scans. The family isn't the sort to rush to the emergency room at the slightest incident. But the swelling on her neck had doubled in size in just a few hours.
The CT scan leads to a raft of other tests. Time passes and Mégane is worried. One after another, doctors repeat the same questions and tell her to call her parents. She is bright eyed and full lipped with a sharp mind. She recognizes that something is very wrong.
When her dad arrives, a group of 10 doctors explain that she has Hodgkin's lymphoma. She says it to me in English because that's the language they used when they gave her the diagnosis which she didn't understand.
When the doctors stop using their medical jargon, she learns that she has a cancer. The news unlocks a host of strange reactions. Her father jots down as much as he can capture; Mégane erupts in nervous laughter; her mother, after an initial cry of angry denial, breaks down in tears as the words Hodgkin's and cancer flood her heart.
Her older brother greets the news with a slow clap; Lilli, her best friend, turns to Google for research; her baby sister collapses in tears when she's told upon her return from a school trip. Even Jacques Archambault, the trip chaperon is deeply moved. He knows Mégane so well, having been her soccer coach for five years. "He's the heart of Face", she tells me.
And then, there's Mégane's own anger and sense of unfairness. It's the end of term and she is eagerly anticipating summer with her friends. Cancer? "Later, well, maybe. But at 17? Why me?"
A world turned upside down
Mégane's cancer is serious and there are a lot of tumours. She begins chemotherapy a few days after the diagnosis. The first of the four cycles is the worst. Mégane is terribly weakened. Back home, her anti-nausea medications have no effect. She vomits constantly, becomes dehydrated and is unable to stand up. Then she's overcome with a critically threatening fever, given her weakened immune system.
A potentially fatal blood infection is detected once she's back at the hospital. Treatments, exhaustion, unable to eat, weakened. "They weighed me and in three days I had lost 30% of my mass," she says.
When she is supposed to be released, her fever surges to 43° C. She shivers through the night in intensive care despite her sweating profusely. Then back to her room for six days. She's not allowed out. Only the immediate family is allowed to visit. "I cried with rage." The night before she's to be released, her arm with the catheter swells badly. A subclavian artery blood clot obstructs 60% of one artery and 100% of the other. No, she won't be released. Anticoagulants are administered. A year on and the clot is still there, and it's likely she'll be on anticoagulants for the rest of her life.
As she recounts this, I can't help but express my incredulity, "No, but do they know what they're doing?". Mégane smiles.
The cancer lottery
Mégane really didn't win the grand prize.
Growth of a blood clot is rare, although more frequent with Hodgkin's lymphoma. Mégane had so many tumours around her trachea, heart and lungs, that operating to install a Port-a-Cath® would have been too dangerous.
The port is inserted just under the skin to ease intravenous treatments. It would reduce the clotting risk, but she couldn't have one until the risk of surgery was eliminated.
11 days in jail
After two cancelled hospital releases, Mégane insists on at least leaving her room. She's suffocating. But no, too risky. On the 11th day, she's finally allowed out of the hospital with her sister, Audrey. It's a gorgeous, sunny day. It's 30° C. As soon as she steps outside, she bursts into tears. Her long sobs help wash away some of the frustration and fear.
"It was my first course of chemo and had no idea of what to expect and I had just spent 11 days in a tiny room. And, I had no idea that my friend Lilli would be there."
The bond of friendship
Lilli, irrepressible Lilli. Always there when you need her – the day of the diagnosis, her first day outside, and between treatments. She's the one who's there to console her friend when she can't take anymore, who texts and helps Mégane's parents whether at home or at the hospital when she's allowed.
Alix, Amélie and Joybi, the other members of the troupe, also make time for Mégane. Their presence warms her heart, but she's not looking for pity. Mégane has the composure of someone who does not want to be pitied.
So, she'd rather not elaborate on her course of treatment, mentioning only that when she thought it would be done by late August, she's then told that radiation therapy is next. It won't be over until October.
A dream to rely on
At the end of June, her treatment team reached out to the Children's Wish Foundation. Many children treated in the oncology unit had their dreams made real thanks to the Foundation and they talk about it to those who are waiting for their turn. Mégane is put in touch with Suzie Mousseau, the Children's Wish coordinator, who tells her she can ask for anything she wants. "Oh my, there's so many things I'd love to do!"
She thinks long and hard about it. Like 70% of sponsored children, she chooses to travel. But where? Australia? Except she wouldn't have time to visit New Zealand that is close by. The Greek islands? She's saving that for a trip with her friends – she foresees a time when she's well again! Morocco? No, that'll be with Lilli who has relatives there. Of course! It will be a trip with her own family. "I really wanted this to be a family trip." Mégane loves the sea, her parents love mountains, her big brother is really a city guy and her sister would love all of it, as long as Mégane is feeling all right. South Africa? Lilli's cousin, who's been around the world, says it's the most beautiful place he's ever seen. So, it's set. Cape Town, with sea, city life and mountains!
"Cape Town, it would make everyone happy and it would make me very happy; there's the sea. And I wanted to go on a safari, so did my mom!"
Suzie Mousseau takes charge of all the planning. The only thing is to choose a date that works for everyone, since the entire family, except Dad, is studying. Mégane had returned to Dawson where the Student Accessibility Centre helps students who are dealing with the effects of illness. In any event, she now must basically restart her academic year.
I have so much admiration for this lovely teenage woman as she confronts such a challenging chapter of her life. "Five really intense months! Are you less stressed now?" She bursts out laughing. "Yeah, I'm trying! I go to school, I work. But I'm trying."
Mégane wants to launch a clothing line. She's studying business management and wants to go onto university to study design. (She's very smart, truly)
She's found a program in France that combines fashion and business and would bring her to Paris, London and Milan. "It's expensive and I have to look at my options, but I don't want to bury my dreams."
She states it frankly, happily and with assurance, and perhaps not realizing its full meaning. When she reads this, she'll understand.
***
Mégane and her family went to South Africa in April 2018, with the support of the Children's Wish Foundation and their insurance granted by Blue Cross. She's shared her story with us, but the memories are theirs. That's what dream trips are for.
Jackson's Fenway Park Dream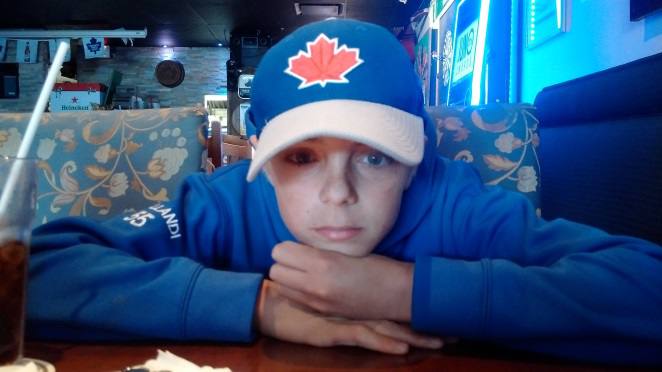 All Jackson ever wanted to do was to play baseball. In 2015, he made it into an AAA team and worked all winter to be the starting pitcher. A sore arm prompted a visit to the doctor which quickly led to a rush visit to SickKids Hospital. Jackson was devastated when he heard his diagnosis – Ewing Sarcoma, a bone cancer.
The 13-year-old went through a grueling regiment of chemotherapy and radiation treatments that halted his ability to play his much-loved baseball.
Jackson first heard that he would be granted a wish during some very dark days of treatment. He was feeling discouraged as his blood counts were low and his arm was not in good shape.
"Knowing that Jackson was going to get a wish, immediately perked his spirits up," mom, Carolyn says.
It's no surprise that the Toronto Blue Jays and Boston Red Sox would be part of his wish request. Jackson would love to meet both teams when they have a game at Fenway Park in Boston.
Carolyn and Jackson's dad, Derek, are incredibly grateful to Children's Wish and Blue Cross for helping to grant Jackson's wish.
"What you are doing for Jackson is a really powerful thing for him. The wish is definitely something that he is really looking forward to. The wish means that he is starting to think about the road ahead, not behind, and that there is a future where he will be better," Carolyn says.
Arianna's dream of visiting Disney keeps her spirits high
In 2015, 4-year-old Arianna began to experience mysterious symptoms such as aching legs, sore spine, a growing bump on the back of her head and an infection in her finger that would not heal with antibiotics. Shelly, Arianna's mom, kept taking her to doctors for repeated examinations.
Finally, an oncologist informed Shelly, "It's not the news you want to hear but Arianna has cancer. I'm so sorry."
For Shelly, that time remains one of the most shocking moments of her life.
The first six months of treatment were the most intense for Arianna and her family. There were many days and nights spent in the hospital. The time was both emotionally and financially very difficult for the family.
But while going through treatment, the prospect of having her most heartfelt wish granted by Children's Wish, was the beacon of hope the young family needed. Arianna will be completing treatment in October 2017, two years after the initial symptoms. In the meantime, she is extremely excited to know that she will be going to fly on a plane to Disney.
"Talking about our trip to Disney has really kept her spirits up, says Shelly. It helps us too to know there's a positive outcome."
Mikayla's Wish benefits her whole family
A day after Mikayla was born, doctors noticed her skin tone was off and she appeared to have trouble breathing. Shortly thereafter, parents Michael and Rose-Marie were given the devastating news that Mikayla had pulmonary atresia, a life threatening condition where the pulmonary valve doesn't develop properly, preventing it from opening. Blood can't flow from the right ventricle to the lungs.
Mikayla was immediately put on a donor list. Luckily, a donor was found and Mikayla was given a new heart in April 2009, when she was only 8-months-old.
Mikayla, now 7-years-old, has grown into a vibrant and vivacious little girl who loves swimming, fairy books, princesses and playing Minecraft.
Mikayla is overjoyed that her most heartfelt wish to visit Disneyland is going to be granted by Children's Wish Foundation. And her older sisters Alexis and Emily are happy to be able to share in the joy of the wish as well.
"We haven't been able to travel due to Mikayla's health concerns and financial considerations so this wish is wonderful for us. We realize that Mikayla's heart issues can be unpredictable even though she is currently in a good place, so we have vowed to fill her life with as much joy and happiness as we can. It means so much to us that people care enough about us to give Mikayla this wish," Michael says.
The Children's Wish Foundation of Canada relies on the involvement of sponsors like us, and especially on the generosity of people like you. Help grant a child a wish and make a dream come true.
At Blue Cross, we are more than a little proud to help these courageous young people. The truth is that we feel privileged to help with their wishes.

"We are extremely thankful for Blue Cross travel insurance. Having that peace of mind was the glue that held all of the amazing pieces of the puzzle together. Without it, Maya's wish of going to visit Disney would not have happened. Not having that worry made our trip that much more enjoyable. Thank you, Blue Cross!"

— Daniel Sapersilver, Maya's father

"Blue Cross has been a valued partner and member of the Children's Wish family for 25 years. With their continuous support, we have granted nearly 10,000 travel wishes – approximately 60% of every wish we've ever granted! We greatly appreciate the security and safety that they provide to our wish families. We simply couldn't grant travel wishes without them."

— Chris Kotsopoulos, CEO, Children's Wish Foundation of Canada

Blue Cross is proud to partner with the Children's Wish Foundation, helping grant wishes to kids with high-risk, life-threatening illnesses.