This summer, give family and friends a different kind of BBQ experience—an international one. Fire up the grill and try two new recipes that will tantalize their taste buds and boost your cooking repertoire.
Escalivada – a Catalonian specialty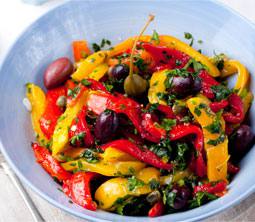 Escalivada comes from the Catalan word escalivar, meaning to "roast on embers." This highly colourful dish, comprised of vegetables grilled on the BBQ, pairs beautifully with fish, fresh sausages or lamb chops.
Ingredients
• Eggplant
• Red peppers
• Spanish onion
• Olive oil
• Salt and pepper to taste
Preparation
Rinse vegetables and place them whole on a preheated grill. Monitor closely, turning them regularly for about 20 minutes. Grill red pepper until skin is black and puffy, but not charred. Eggplant generally takes a bit longer to cook; it should be soft to the touch.
Once vegetables are cooked, place peppers in an airtight container: the condensation will make them easier to peel. Cut all cooled food into strips then place them on a serving plate. To season, simply add a touch of olive oil, salt and pepper.
Bright and fresh, escalivada is a beautiful dish to serve. Enjoy it any way you like with garlic-rubbed toast or fresh herbs. Feeling creative? Add tomatoes, zucchini, potatoes, garlic or other colourful vegetables to the mix.
Bon profit!*
*Enjoy your meal in Catalan.
Asian-style kebabs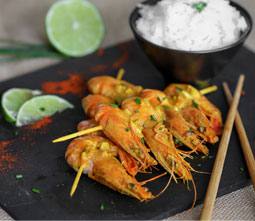 Bring an Oriental flavour to your kebabs with this Asian marinade that goes perfectly with grilled meats and fish. Beef, shrimp, salmon or chicken—the options are endless, once you have the base.
Ingredients
3 garlic cloves, finely chopped
2 tbsp. fresh ginger, grated (1 tsp. ground ginger)
2 tsp. soy sauce (reduced sodium)
2 tsp. rice vinegar
2 tsp. sesame oil
1 tsp. maple syrup or honey
½ cup vegetable oil
2 pinches of hot pepper flakes (to taste)
Preparation
Combine all ingredients in a bowl. Add meat, fish, shrimp or even tofu cubes. Marinate up to two hours, then grill.
Quantities are approximate—modify them according to your preferences or the number of servings. For a sophisticated touch, sprinkle black sesame seeds over the kebabs before serving. Accompany with braised broccoli florets and a fresh garden salad.
All nationalities use fire to cook food. The slow cooking process, convenience and sociability of outdoor eating all help to relieve stress. This summer, widen your culinary horizons and enjoy low-fat grilled meals with loved ones.
To maintain a balanced, healthy lifestyle year-round, consult our Blue Cross website for lots of great health tips. Explore our comprehensive health and travel insurance plans to find the right coverage for your needs.