Whether you enjoy riding around your neighbourhood or wish to explore the beautiful trails that crisscross the country, your bike is king of the great outdoors. This article will introduce you to the fun, ecological and economical activities you can enjoy as a cyclist.
We all remember the day when, for the first time, we managed to master the trick of balancing on two wheels. And you never forget how to ride a bike! As a result, we can return to cycling at any age to reap the benefits for the fun of biking and our health and well-being. There are a thousand and one ways to enjoy biking and a range of services available to cyclists, as you can see by visiting the site of Vélo Québec (velo.qc.ca) or that of Ontario by Bike (ontariobybike.ca).
Long Trips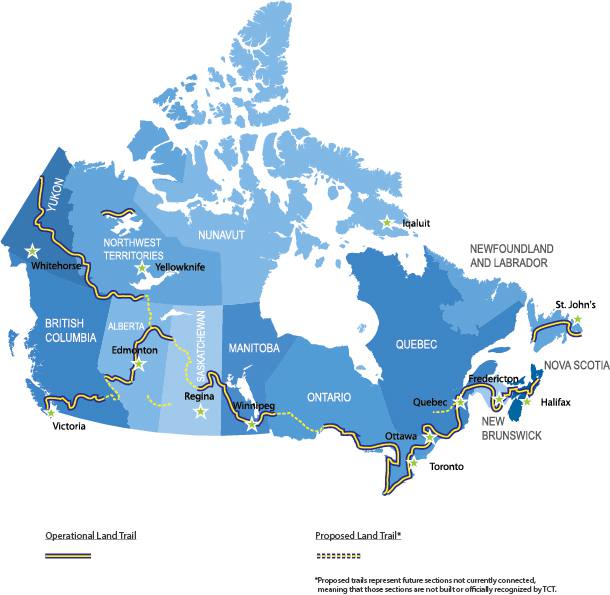 Canada is crisscrossed with "green routes" that allow us to discover the country while benefiting from the joy of cycling. The Trans Canada Trail was created to connect a vast network that, once completed, will cover 24,000 km across every province and territory. Cyclists will be able to go from the Atlantic to the Pacific, and even to the Arctic Ocean!
It is easy to enjoy as over 80% of Canadians live within 30 minutes of one of the green routes. Moreover, the Trans Canada Trail website contains all the information you need to organize an outing of any length you choose. It's even possible to find the section of bike trails nearest your home.
In addition, a number of guides organize cycling tours both at home and abroad for those who decide to spend their vacation on an outdoor adventure. These packages usually include accommodation, luggage transfer from one point to another, a guide, and a support vehicle (to provide mechanical assistance). You bring just your bike and your enthusiasm!
Off the Beaten Track
More adventurous cyclists typically succumb to the lure of mountain biking. Obviously, this activity requires a sporty temperament, but it offers an opportunity to discover places otherwise inaccessible and allows you to channel your excess energy off the beaten track. In eastern North America (Ontario, Quebec, the Maritimes, and New England), more than 4,160 km of trails, across nearly 150 sites, await lovers of mountain biking.
Cyclists who really want to escape will be happy to discover VéloVolant, located in the area of Sutton, Quebec. VéloVolant translates to Flying Bicycle. There, recumbent bicycles are suspended from cables that meander through the forest canopy above the slopes of a mountain. You pedal your bike – suspended in the air – at your own pace. From your perch above the forest floor, you can leisurely enjoy the ravines, streams, and waterfalls, watching the animals while "flying" far above. A circuit of 1 km takes approximately 45 minutes to complete.
Enjoy Your Outdoor Activities with Utmost Safety
Whatever activity you choose, follow the recommended safety instructions Also, remember that if you travel outside your home province your government health insurance plan does not offer the same coverage as it does at home. Check with Blue Cross to purchase a insurance product that will protect you properly, wherever you go.